Graphic Designer in Doncaster, UK
Are you searching to find the best local graphic designer in Doncaster or anywhere in the UK to represent the company you've worked so hard to build?
I'm Drina
, a professional, affordable,
freelance
graphic designer,
based in
Doncaster
, who works with startups, SME's, charities and individuals. I produce high quality, affordable design solutions for clients in the UK and beyond and help them to solve
graphic design
dilemmas, enabling them to
look credible
and professional without busting the budget.
Recent Graphic Design Work
What My Doncaster Clients Say
Drina has done a fabulous job with our new Cafe Menus and Gift Vouchers. They look so crisp, clear and professional. From first meeting Drina, I felt confident that she would meet the brief but she absolutely excelled and in a fast turnaround time too.
Drina is passionate and enthusiastic about her work... she listened to what I wanted to achieve in my business and my ideas and gave her professional opinion on them, she suggested things that could be incorporated into the design which I am thrilled with.
I had really struggled to articulate the vision for our brand with other designers, but Drina asked all the right questions, which enabled me to give a very specific brief. She took all the elements of our rather complicated business, and incorporated them into a beautiful design.
Drina was amazing in helping bringing my salon to life! I sat down and told her everything I wanted my salon to be and represent and she just knew! So professional, friendly and talented she just created my brand before me. I get so many comments from clients of how stunning my logo is.
We commissioned several designers to come up with ideas for a logo for our new trading name 'Twinwoods Adventure'. Drina's initial idea was right on brief and really stood out from all the rest. She understood the idea we were trying to convey and created a logo that was...brilliant.
Drina has to be the most intuitive designer around… she takes your ideas…adds her own creativity & insight and methodically produces something magic and meaningful..
I recently purchased a business and the only copies of the logo they had were pixelated. Drina tidied up my logo and it now looks great. The service she offers is speedy and professional. I would definitely recommend her.
Drina has designed a number of adverts for us now. Helpful, reliable & friendly service!
Drina created our wedding invitations, she captured our random brief and produced the most perfect, individual suite of invitations and reply cards for us at an incredibly reasonable price. I would recommend Drina's work to anyone
Here is a list of the most frequently asked questions and answers

Are you looking for a professional graphic designer based in South Yorkshire? If you need professional, affordable brochure design, then please don't hesitate to contact me, i'd love to provide more info 🙂 drina.co.uk #graphicdesign #doncaster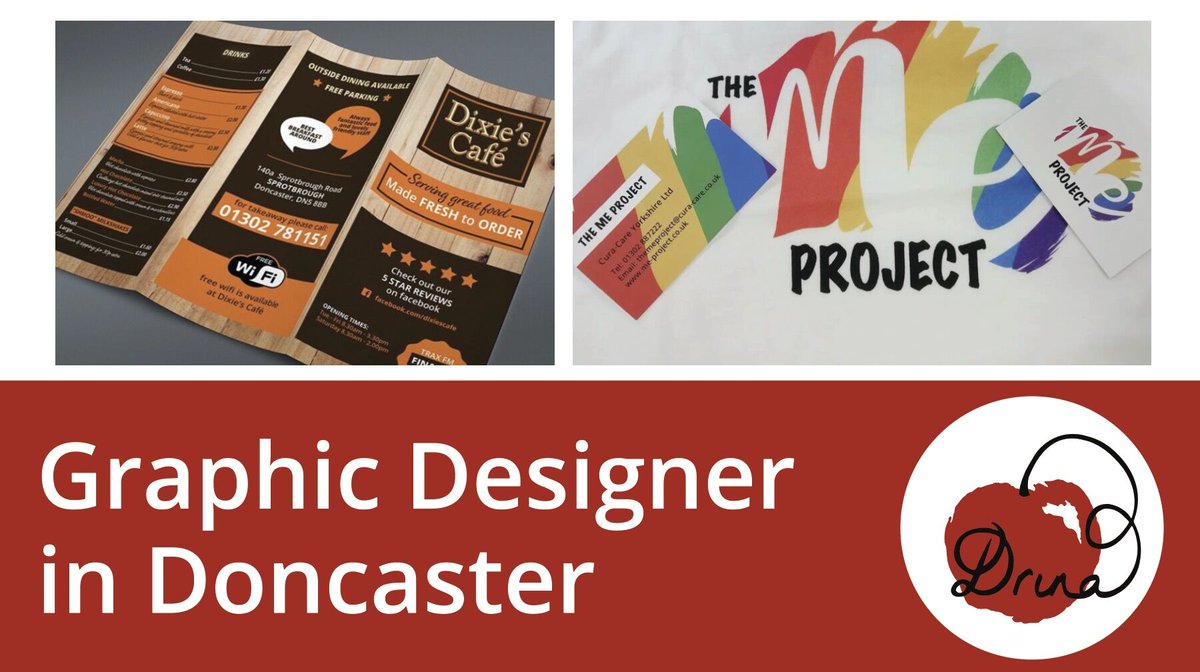 Local Service Areas Covered
Want a graphic design quote?